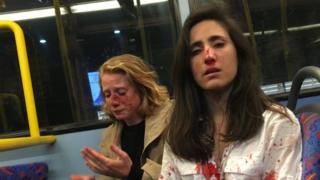 A group of boys who subjected two women on a bus to homophobic comments "wanted to be shown how lesbians have sex", a court was told.
Melania Geymonat and Christine Hannigan were harassed and pelted with coins by the boys in north London on 30 May.
Three boys, aged 15, 16 and 17, admitted public order offences on Thursday.
A judge ruled homophobia was behind the 17-year-old's involvement, after he had contested this.
At Highbury Corner Youth Court, he was sentenced to a four-month youth rehabilitation order, a 20-hour reparation requirement, similar to community service, and a two-week curfew.
The other two boys, who did not contest the prosecution's case, will be sentenced next month.
Ms Hannigan had told the court they were targeted "because of who they were".
'Homophobic comments'
She added: "We were clearly together in a romantic sense, we were being affectionate.
"It is pretty intimidating being cornered and making homophobic comments.
"They wanted us to show them how lesbians have sex. They said 'show us' and I don't remember if it was on its own or part of a larger phrase but the words were said."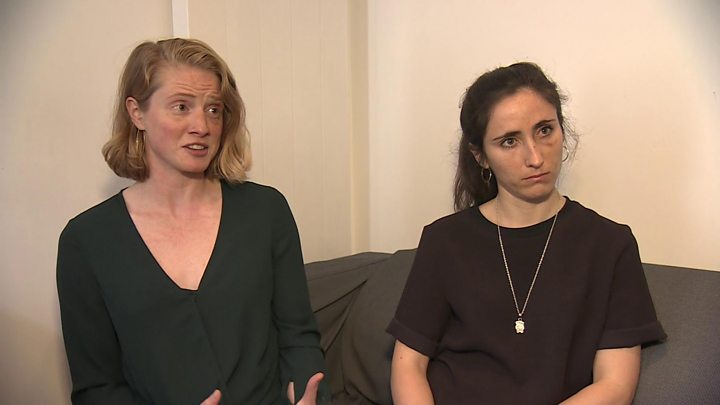 When asked whether the teenagers were being aggressive or annoying, Ms Hannigan replied: "I think they were being both.
"They were being extremely aggressive verbally and then they made it physical."
Defence solicitor David Wood said although the boy threw coins and made a kissing gesture at the couple, the action was not based on their sexual orientations.
"He was 17 and just being stupid," Mr Wood said.
"They have got over excited in a puerile, immature way over the fact that these women were in some sort of relationship."
Passing judgment, District Judge Susan Williams said: "I am quite sure this was a hostile act. However, I also have to be sure that you were hostile because Ms Hannigan was a lesbian.
"In other words that you were picking on her because of who she was and not just fooling around.
"I have come to the short conclusion that is exactly what you were doing."